After the proliferation of commercial DNA testing, the top companies in the field also started focusing on animal DNA examination, especially canine. Some DNA testing providers have also incorporated feline, avian, equine, and alpaca solutions into their portfolios.
Our guide to the best dog DNA tests of 2018 will enumerate the top ranked companies, according to our extensive list of ranking criteria. It will equip you with the necessary knowledge to make a completely informed choice that can meet all your needs. This guide is regularly updated, so it can keep up with the latest trends, offers, companies, and discounts on
#1 Wisdom Panel
LARGEST CANINE DNA DATABASE TODAY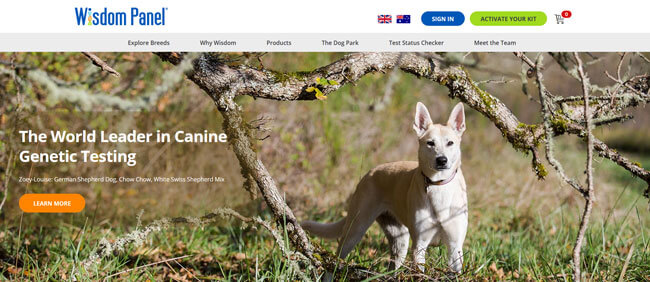 Founded in 2005, Wisdom Panel is the sub-operative of Mars Petcare, a division of Mars Incorporated. Confusing as the company structure may be, the only thing that interests us is the fact that Wisdom Panel has one of the 6 biggest private companies in the world behind it. The company specializes in DNA tests for canines and felines, but they're constantly expanding their program, so we're sure we can expect more solutions in the future.
Wisdom Panel has performed over 800,000 tests so far, has over 12,000 samples in their database, and covers 99% of the 180 breeds recognized by the AKC. They even go approximately 70 dog breeds beyond that. They also have multiple partnerships in the field including Washington State University, Genoscoper Laboratories Finland, Geneseek, Waltham, Morris Animal Foundation, Orthopedic Foundation for Animals, and more.
Wisdom Panel currently offers 3 animal DNA tests, including Wisdom Panel 4.0., Optimal Selection Canine Genetic Breeding Analysis, and Optimal Selection Feline Genetic Breeding Analysis.  Wisdom Panel 4.0. can be performed on purebred, mixed breed, and designer dogs. The results provide purebred ancestry identification (3 generations), weight profile prediction, info on physical traits, MDR1 genetic mutations, and the possibility of Exercise-Induced Collapse. It costs 84.99$, with a turnaround time between 2-3 weeks.
Optimal Selection Canine Genetic Breeding Analysis provides a full genetic disease report (among 150 conditions), reports on morphology, coat properties, and other traits, a personal dog profile you can share, a breeder tool for identifying compatible mates, and constant updates to the results. The price is 129.99$, with 3-4 weeks turnaround time. Optimal Selection Feline Genetic Breeding Analysis differs from the canine variety only in its price (99.99$) and the number of genetic diseases screened (30).
#2 Embark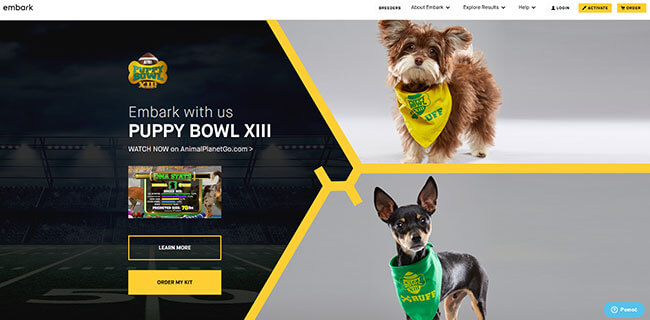 Embark is a successful startup, put in motion by brothers Adam and Ryan Boyko, two prominent scientists and genetics aficionados. It's the youngest company on our list by far, being founded in 2016. Embark features a detailed canine DNA test with over 256 quadrillion genetic combinations tested. They process the samples in a modern lab and allow for raw data download.
Embark has partnered with the Cornell University of Veterinary Medicine and the ever-present Scientific Advisory Board. On top of that, they engage in numerous research projects and do charity work whenever given the opportunity. Every test bought from Embark brings a bit of money to several shelters they're co-operating with.
The main test is called Embark Dog DNA Test. For the price of 199$, it offers breed identification and ancestry research, cross-referencing your dog's DNA with over 150 dog breeds, including village dog, coyote, and wolf heritage, a detailed health report, examining more than 150 common genetic canine diseases, genetic age, allowing you to "translate" your dog's age into human years, comprehensive care and wellness recommendations based on your dog's genetic age, and over 200,000 DNA markers checked for perfect accuracy.
Embark also offers a DNA test specifically designed for breeders. For the price of 179$ (special discounts for bulk purchases), you can learn how to breed your litter for a specific size, coat color/texture, and so on. There is also a special offer for veterinarians who choose to sell Embark tests in their clinics. Embark provides a decent profit margin and life-long plans for new clients.
#3 EasyDNA Animal

Launched back in 2005, EasyDNA currently operates 25 corporate offices scattered all over the world. They cover all major countries like the US and China, but also some "exotic" regions like Zimbabwe.
Apart from ancestry and relationship DNA testing, EasyDNA also has an extensive offer of genetic tests for dogs. In case you encounter any problem with their service or simply have some additional questions, you can always contact their highly competent user support via phone, email or live chat.
EasyDNA offers several DNA tests for dogs, including Dog DNA Testing Without The Mother (306$), DNA My Dog Breed Test (79$), which provides a complete insight into the genetic makeup of your dog, as well as information on your dog's unique traits, personality, and susceptibility to potential genetic diseases and conditions, Dog Breed Identification Testing (91$), which identifies the key breeds behind your dog's genetic makeup, checking 321 genetic markers and covering 185 dog breeds, Dog Parentage Test (198$), which establishes the true parents of your dog in a definitive manner and serves as a pedigree certification, Dog Inherent Disease & Trait Test (75$), which inspects risk factors for 9 genetic diseases, and Dog Poop DNA Testing (price on request), which allows you to identify the irresponsible owner and take appropriate measures.
All tests come with a guaranteed 99.99% accuracy and are performed in a cutting-edge ISO 17025 certified laboratory.